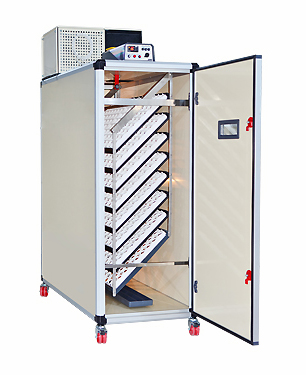 Keeping the eggs collected from the farm in good conditions is very important for maintaining the quality of the eggs. Eggs kept under inappropriate conditions cause large declines in hatchability.
We are producing fixed or trolley type egg storage cabinets in 1280 - 4800 chicken egg capacity range with the specifications;
Automatic cooling, Automatic preheat, Automatic turning, Automatic humidification,
Technical Details
POWER
- 220-240 VAC 50Hz
- Max:May Change (W) Average:May Change (W)
TRAYS&BASKETS
- Plastic Setter Trays : May Change (pc),
CABINET
- High insulation Double Wall sandwich panels ,
- 12 mm evelation for easy cleaning and heat insulation,
- Eloxal aluminium cabinet body profiles,
- Double door design, 2nd door for back cleaning and service,
- Lockable double wheel for easy movement,
VENTILATION
-

AIRROUTE

TM ventilation technologie,
- Adjustable air in-out ventils,

HEATING&COOLING
-

DIGIFEEL

TM Automatic digital

PID

temperature control,
- SSR (Solid-state relay) Relay,
- Electronic Sensor,
- Digital temperature display,
- Stainless electrical heaters,
- Automatic cooling control,
HUMIDITY
-

HUMISONIC

TM Full automatic humidity control system,
- Electronic humidity sensor,
- Digital humidity display,
- Water tank 20Lt,
- Automatic water intake from watertank for humidity,
- Control panel unconnected demountable humidity module,
TURNING
-

Turn

X

TM Full automatic egg turning system,
-

SS304 Stainless

turning mechanism,
- Parallel position button in control panel,
- Demountable motor driver, unconnected to the panel,

PROTECTION
- Controller and relay high voltage protection,
- All system is protected by fuses,
- Sensorless operating mode,
ALARMS
- High - low temperature alarm,
- High low humidity alarm,
- Sensor alarm,
DIMENSION/WEIGHT
Cabinet (wheels, Water Tank, inc.)
- May Change (W) X (D) X (H) cm.
- May Change (kg.)
*We reserve the right to change specifications due to our policy of improvement.